The places where we live, learn, work and play all contribute to one's ability to become and stay healthy. Below are stories which showcase the successes of schools in the Capital Region.
Schenectady City School District
The limited outdoor space on the grounds of the Schenectady City School District's middle school encouraged one Physical Education (PE) teacher to think outside the box. In efforts to increase the excitement around PE class, and to encourage physical activity after school, the PE teacher built on a previous fishing program and introduced archery to the children! The middle school worked with the National Archery in the Schools Program and CHSC to provide the sport and equipment, allowing the kids to acquire a skill they can use into adulthood.
Cohoes City School District
It's typical for high school sports teams to exercise in a large, dedicated workout space, utilizing equipment such as medicine balls, a bench press, dumb bells and more. Unfortunately, for the Cohoes High School, of the Cohoes City School District, pressures from competing school activities led to a scaled-down, and often shared, workout room. The district realized that a workout room expansion was necessary, and with the help of CHSC, decided to enlarge the space to accommodate more student-athletes and equipment, while also allowing non-athletes and the public free access and expanded hours!
Albany City School District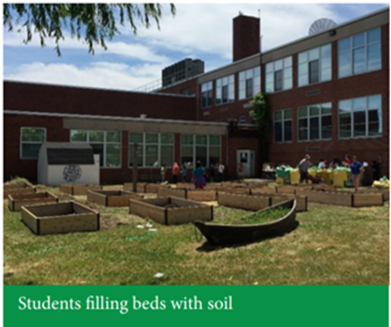 Gardening is a powerful educational tool that allows children to learn the responsibilities and benefits of farming, in addition to increasing access to fruits and vegetables within a city community. At TOAST Elementary School, of the Albany City School District, CHSC and various other community organizations installed 12 raised beds to host various fruits, vegetables, and flowers!
Read more CHSC statewide success stories here.